---
Open That Bottle Night 2018  was a splendid five hour affair with memorable wines, food, laughter and fellowship shared with great friends!
Of all the wine "days" (Cabernet Day, Chardonnay Day, Champagne Day,  etc), Open That Bottle Night ("OTBN") is my favorite.  That's because it's a great opportunity for fellowship around food and wine; and making memories with the special people in our lives.
OTBN was created by former Wall Street Journal wine columnists Dorothy Gaiter and John Brecher.  It's the one night a year that we are all encouraged to get out that bottle of wine that is so special that no occasion seems special enough to actually open it.
On OTBN, which is celebrated on the last Saturday of February every year, thousands of bottles all over the world are released from prison and enjoyed. …wine is more than the liquid in the bottle. It's about history, geography, relationships and all of the things that are really important in life" – Dorothy J. Gaiter and John Brecher
My wife and I have been celebrating (and hosting) OTBN since 2010, and it just seems to get better every year!
A few years back, after introducing it to our good (wine and food loving) friends, we've been alternating hosting the event.  This year was our turn.
We would normally spend quite a bit of time preparing an elaborate meal, including appetizers and dessert, but I inadvertently scheduled going to see a Book of Mormon matinée the same day (hilarious BTW…if you haven't seen it, I highly recommend) in San Francisco.  That meant we wouldn't get home until 5-ish.
Our OTBN dinner was scheduled for 7!
Fortunately, my wife has become a bit of an expert at making Paella, and she did some of the prep work the day before.  It's a stunning main dish that is certainly suitable for a special occasion like OTBN.
That left appetizers and dessert.  I decided to break out our raclette for appetizer and we purchased a pie from our favorite local pie shop.
Et Viola!  The menu was set!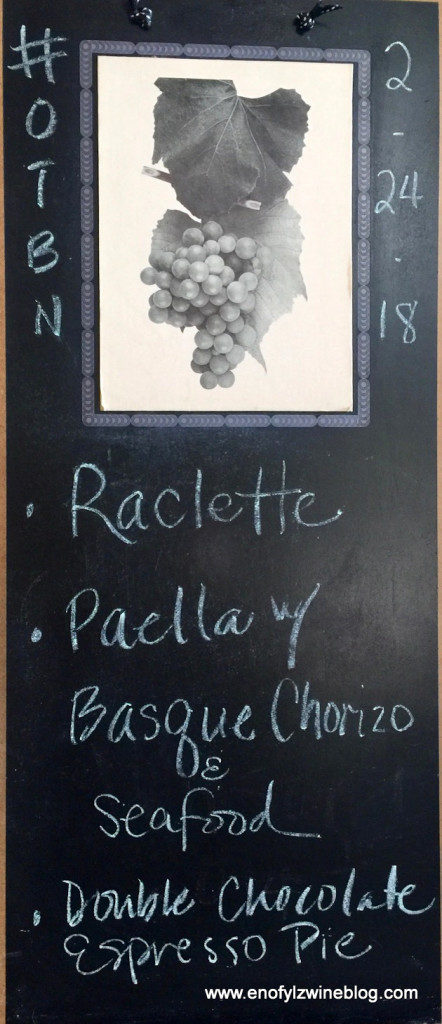 Sparkling Wine and Appetizers
We always like to start a party with sparkling wines – they pair well with virtually anything and elevate whatever the occasion may be.  In this case, we had a  vintage Champagne and a very nice Demi-Sec sparkling wine from Domaine Carneros!
Appetizers were essentially "DIY" thanks to our raclette grill!
If you're not familiar with a raclette, it is both the name of a semi-hard cow's milk Swiss cheese and a Swiss dish (also popular in France) based on heating the cheese and scraping off the melted part.
The modern way of serving raclette involves an electric table-top grill with small pans, known as coupelles, in which to melt slices of cheese. Generally the grill is surmounted by a hot plate or griddle. The cheese is brought to the table sliced, accompanied by platters of boiled or steamed potatoes, other vegetables and charcuterie.  The slices of cheese are melted under the griddle in the coupelles and simply poured over food on the plate. The emphasis in raclette dining is on relaxed and sociable eating and drinking.  It can be a meal, or in our case we adapted it appetizers.
It's a fun way to enjoy appetizers without a lot of fussiness!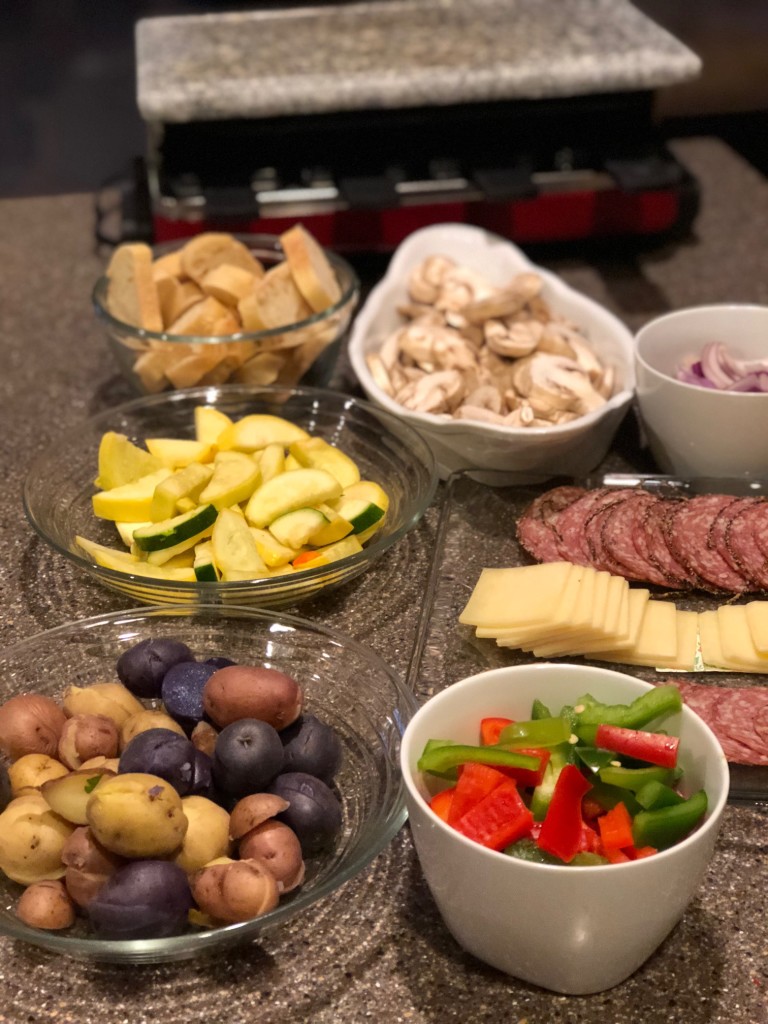 Main Dish And The Stories Behind The Wines
My wife and I both love Paella!  We've  had it so often that it's become her specialty. She doesn't use a recipe per se and she's been known to cook her relatively quick version of it on a weeknight.
When she makes Paella for a special occasion, she makes her own seafood stock.
And that exactly what she did for our Basque Chorizo and Seafood Paella, which turned out great.  It presented beautifully and was simply delectable!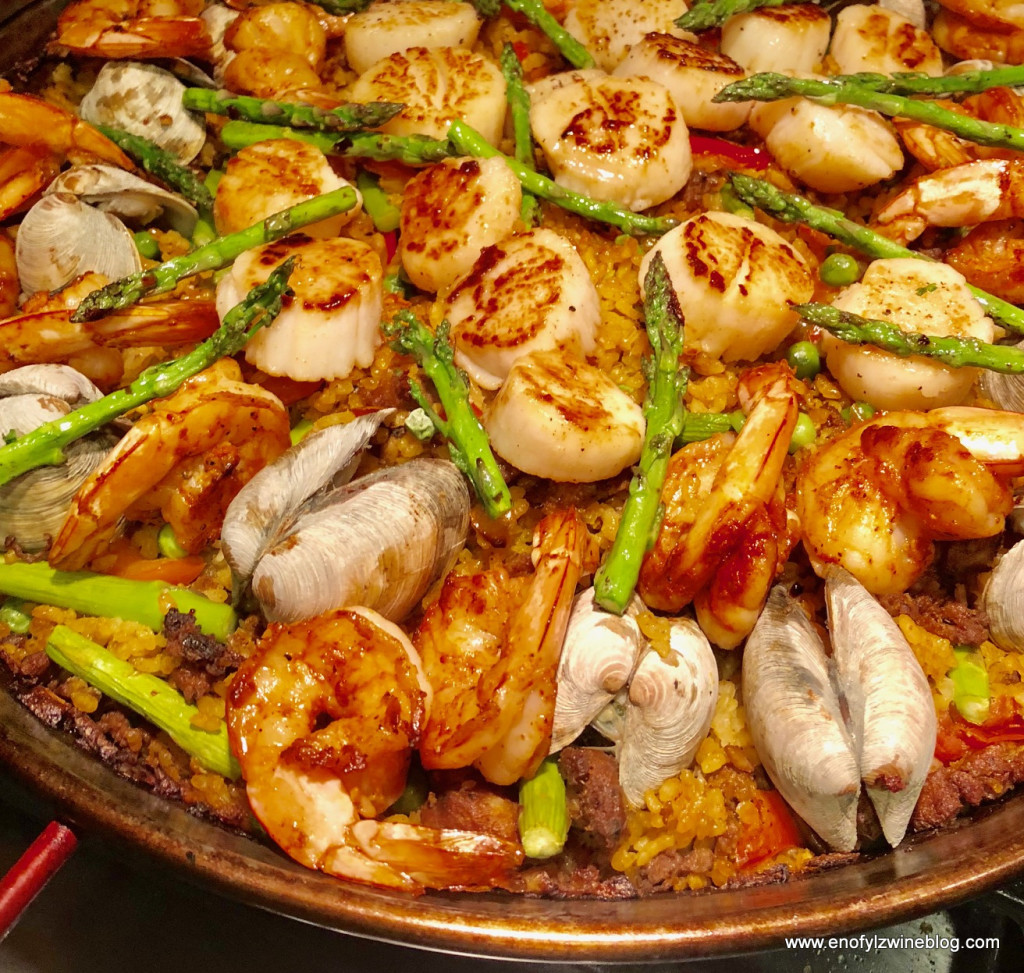 The Iberian Wines
Whenever we do OTBN we ask each person who brought a special bottle to talk about the bottle – what makes it special and/or why they picked it for OTBN.
I contributed two bottles, a 2008 Torre de Tavares Encruzado Dão and a 2005 La Rioja Alta Rioja Gran Reserva 904
The Torre de Tavares is simply one of the best white wines I've ever tasted. I purchased three bottles from Bliss Wine Imports several years ago.  This was my last bottle, and as far as I know only one other bottle exists (I know that because a friend has the other bottle).
For me, sharing my last bottle of this wine is what OTBN is all about, sharing a special bottle of wine with friends!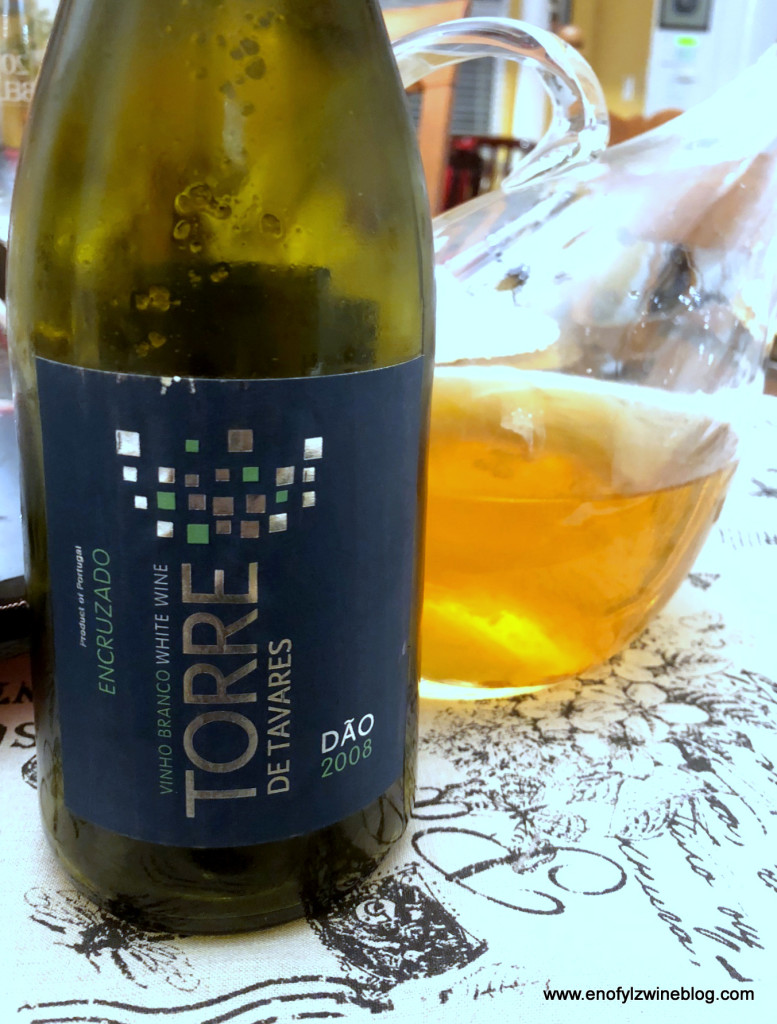 The  other bottle of wine we shared was the the 2005 La Rioja Alta Gran Reserva 904.  It's only been in my cellar for a couple of years because like many of the more traditional Rioja wineries, the cellaring is done by the winery. In this case it was aged 4 years in barrel and 6 years in bottle before it was released!  The result is a wine that was already very smooth, drinkable, enjoyable and full of character.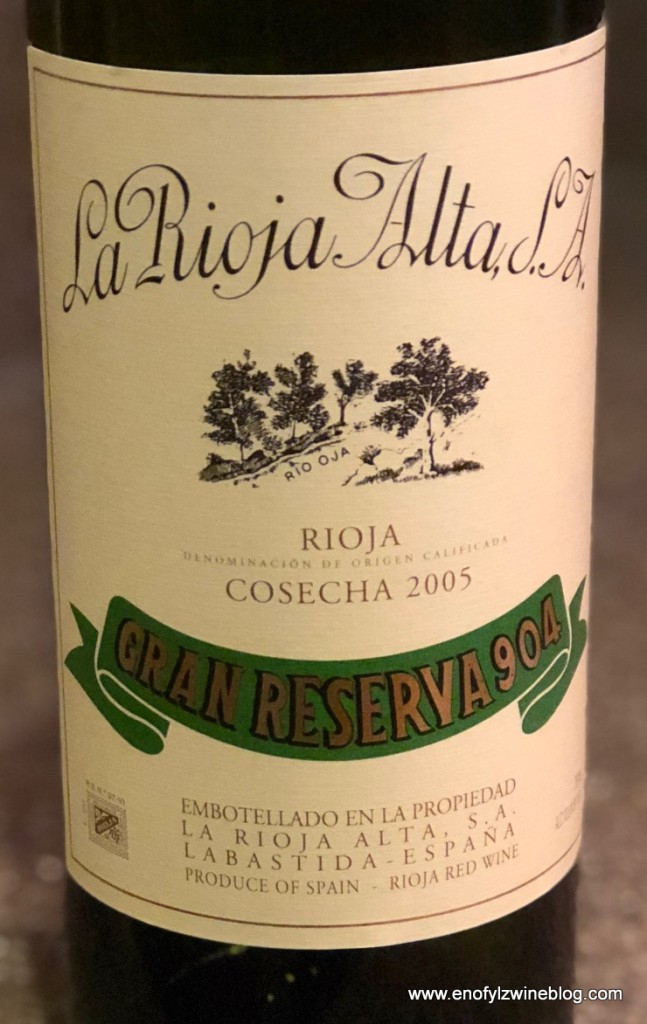 Unbeknownst to me when I purchased it, it was Ranked #1  and an Editor's Choice on 2016 Wine Enthusiast Top 100 wine list.
 One look, one whiff, one taste and you're swooning. This mature, tawny, ready-to-drink gran reserva with aromas of lemon peel, cedar and dried cherry is the epitome of elegance. A juicy, supple palate is highly approachable, while flavors of vanilla, orange peel, saffron and dried plum don't waver on the finish. Drink through 2027 – 96 points
You can check out my full review of the wine by clicking here.
Our friends brought a 2004 Cune Imperial Gran Reserva. It was Wine Spectator's #1 wine in 2013.  It was first time a wine from Spain has claimed the top ranking in Wine Spectator's annual Top 100 list.  It's made by one of Rioja's most important producers, which was founded in the 19th century, Cune.  According to Wine Spectator, the  2004 Cune Rioja Imperial Gran Reserva reflects the revolution in style and character that has occurred in Spain's most prestigious wine region over the past 20 years. 
"Firm and a bit austere, this red shows depth and drive, with chewy tannins supporting plum, tobacco, licorice and mineral flavors. The structure is solid but the wine remains fresh. Maturing now, this has a long life ahead. Drink now through 2024"
This isn't the first Wine Spectator #1 wine our friends have shared with us.  His wife purchased the #1 Wine Spectator wine for him for many, many years before they became virtually impossible to find and prohibitively expensive if you could find one.
How's that for generosity?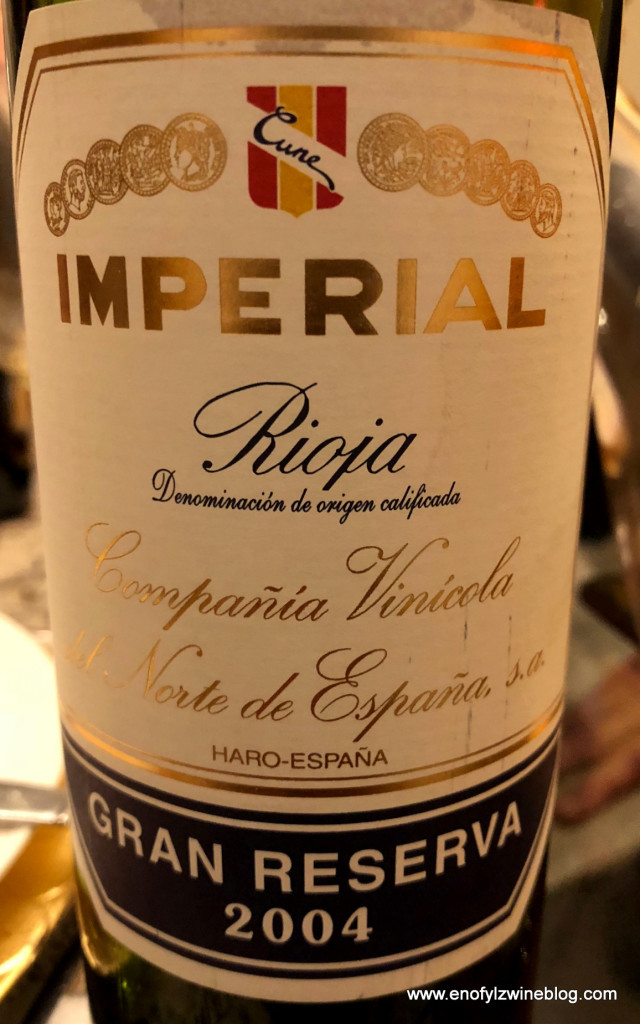 Between the two Riojas, it was my favorite (although I must say the La Rioja was "catching up to it as the night progressed it had more air) . You can read what Wine Spectator said about it by clicking here.
While both the Riojas paired well with the Paella, I thought the Torre de Tavares Encruzado was an even better pairing for the Paella.  I'm going to miss that wine!
Dessert and Dessert Wine
Our friends who brought the Cune also brought dessert wine, a Quinta de Carvalhas 10 year old tawny. It paired perfectly with the Double Chocolate Espresso Pie.    No tasting notes, but I recall the wine seems pretty fresh for a Port and wasn't at all cloying as many Ports can be.  A gorgeous Port in my book!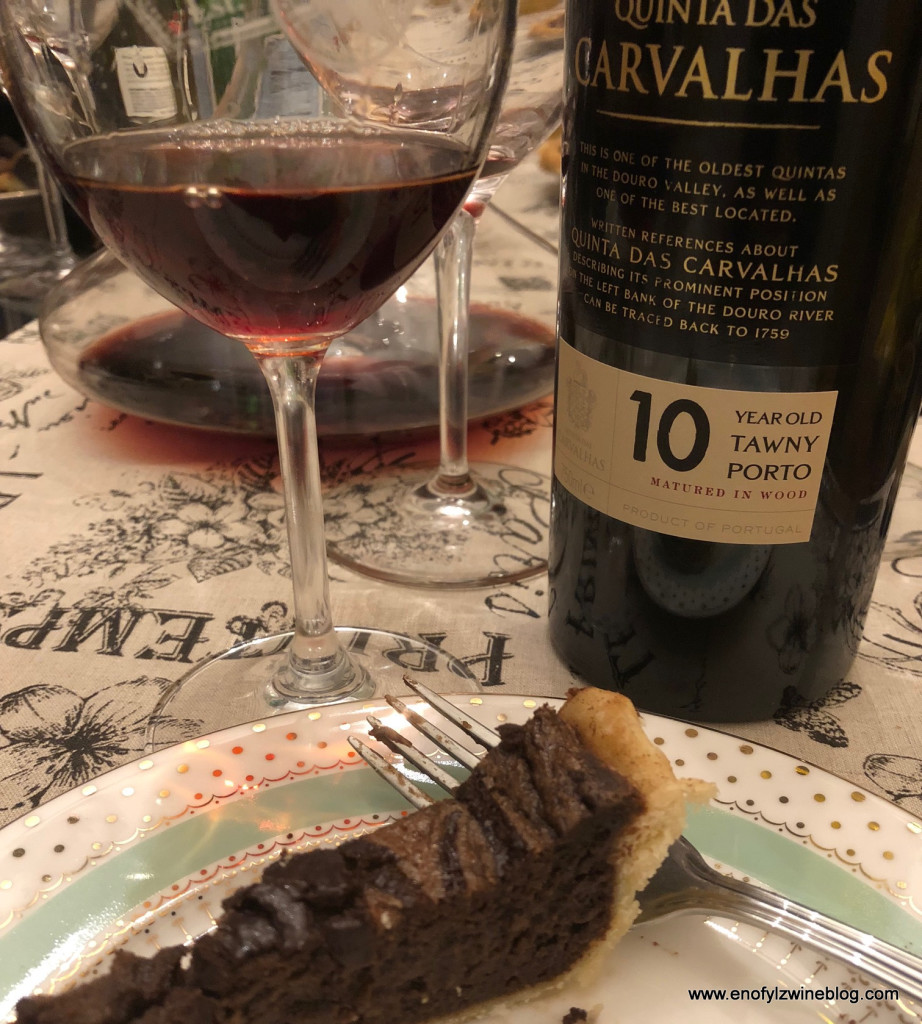 Our OTBN was a splendid five-hour affair with memorable wines, food, laughter and fellowship shared with great friends.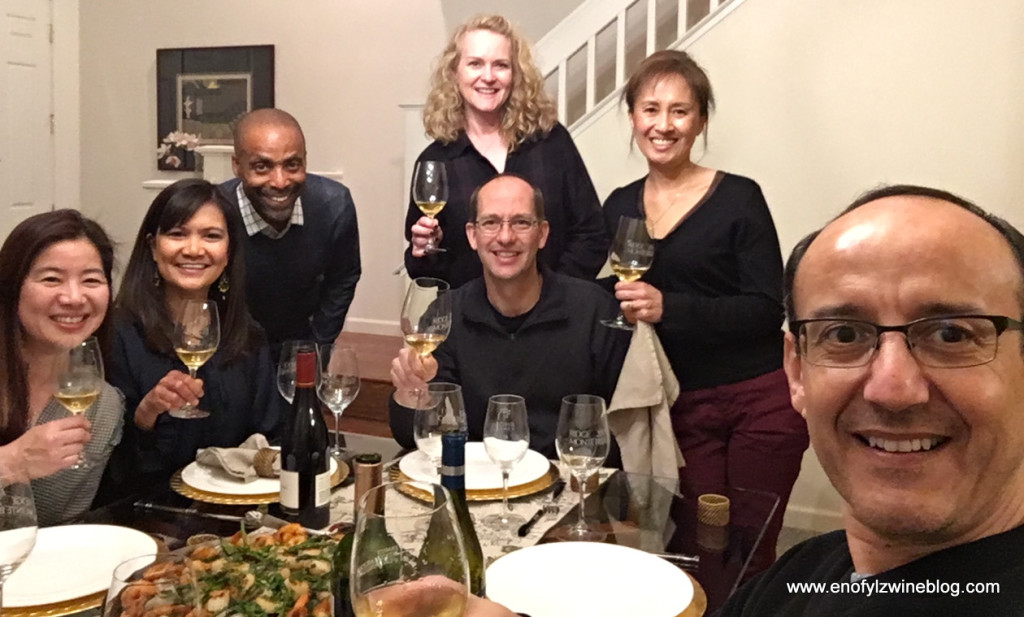 Check out what my Wine Pairing Weekend friends have to say about their OTBN
Join the conversation about #OTBN and special wine and food pairings by joining our live Twitter chat. Tune into the #winePW hashtag on Saturday, March 10, 11 am ET / 8 am PT to join the conversation.
________________________________________________________________________
Follow me on Twitter, Facebook, Instagram, Vivino and Delectable, for all things wine.  As a wino with latent foodie tendencies, you'll also find food and wine pairings, and food related stuff! Become a fan and join ENOFYLZ Wine Blog on Facebook. Cheers!
Copyright Notice: This entire site is Copyrighted 2010-2018. All Rights Reserved. No unauthorized copying of any section of this site is permitted. If you wish to use any part of this site, contact me. For information on Copyright Law, see the official U.S. Copyright Office home page.